DFLTI contributes to research by publishing scientific journals and volumes.
The International Journal of Language, Translation and Intercultural Communication (IJLTIC)
The IJLTIC is an international online, open access, double-blind peer-reviewed journal dedicated to publishing high-quality research papers covering all areas of applied modern languages, translation, interpreting, discourse, and intercultural communication studies.
The journal aims at promoting intercultural perspective on language communication and serves as a platform for local linguistic and communicational aspects to gain global attention, and for global perspectives and trends to have an impact locally.
The Scientific Committee maintains rigorous publication procedures and safeguards high standards of scholarship. A fully electronic publication management system ensures a speedy process and allows authors to monitor the progress of their manuscripts from submission to publication. The Greek National Documentation Centre (EKT) provides the management and technical support for the electronic issues of the journal.
Read more about the journal at: https://ejournals.epublishing.ekt.gr/index.php/latic
Scientific volume in memoriam Haris Katsoulis, Professor in DFLTI of the Ionian University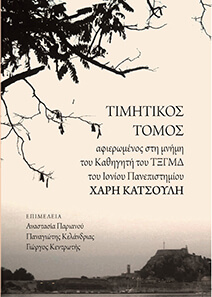 This volume in memoriam Haris Katsoulis comprises articles by current and former members of the Department as well as by doctoral students and doctoral candidates.
The volume, published by DIAVLOS Publications, was edited by the Professors of DFLTI Dr. Anastasia Parianou, Dr. Panagiotis Kelandrias and Dr. Yorghos Kentrotis.
20 Years DFLTI Festschrift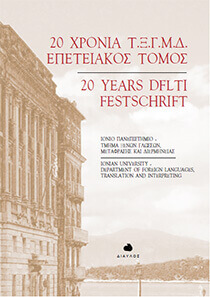 The Festschrift, published in 2006 by Diavlos Publications on the occasion of the 20 years of operation DFLTI, comprises articles by colleagues from DFLTI as well as scholars of renowned prestige from academic institutions in Greece and abroad. The volume was edited by the Professor of DFLTI Dr. Panagiotis Kelandrias.
The volume is divided into three sections:
Translation, Language, Literature
Culture, Geopolitics
International Relations, Political Science.
In the "Translation" section a fruitful scientific discussion on different aspects of translation and translation studies is developed. The other two sections comprise articles from various fields taught at DFLTI and considered necessary for the interdisciplinary education of future translators.
The volume aims both at demonstrating the interdisciplinary nature of translation and at opening communication channels with Greek and foreign scholars that are active in the field of translation studies.
Download the Festschrift.