Sotiris Livas
| | |
| --- | --- |
| Field: | Politics and Society in Middle East |
| Rank: | Professor |
| Government Gazette: | 2701/05.11.2021 (ΦΕΚ μεταβολής γνωστικού αντικειμένου: 342/01.02.2022/τ. Β') |
| Telephone: | +30 2661087201 |
| Email: | sotlivas@ionio.gr |
| Office hours: | Wednesday 09.00-12.00 |
---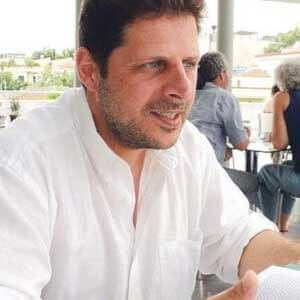 Livas Sotiris: Curriculum Vitae
Size: 107.3 KB :: Type: PDF document
Professor Dr Sotiris Livas had been Head of the Department of Foreign Languages, Translation and Interpreting at the Ionian University from 2018 until 2022, Director of the Post-Graduate Programme "Language and Intercultural Communication" (2018-2022) and Departmental Internship Coordinator (2010-2022). He is currently Director of the "Laboratory for Language and Politics".
He holds a BA in Law from the National and Kapodistrian University of Athens (1989), an MA in International Development Law and Development Studies from Panteion University (1997) and a PhD in Law and International Relations from the Ionian University (2003).
Sotirios S. Livas has been a member of the teaching staff of the same University since 2001. Since 2017, he is Associate Professor of International Law, International Relations and Turkish – Middle Eastern Relations. He also teaches at the University's post graduate program. He has written and published extensively on the geopolitics of the Middle East, Islam and western notions of democracy, Islamic extremism, immigration and Turkey's place in the Middle Eastern geopolitical context. He is frequent contributor and book reviewer to international journals, such as the Turkish Review and the Journal of Oriental and African Affairs.
He is a writer of five books and he has translated and edited five more. He has contributed with a chapter (Xenophobia, Alienation, Heterotopias and Cultural Limits: Fictional Boundaries of the Athens Pakistani and Afghani Communities) to Annmarie Profanter – Francis Owtram's Citizenship in Transition (Cambridge Scholars, 2013). He has taken part in international conferences about Islam and democracy and about Islamic political and religious networks.
Updated: 02-03-2023
---
Back
Staff
Secretariat
Tsirigoti Sq.
Galinos Building (1st floor)
Corfu, GR-49132
+30 26610 87202
dflti@ionio.gr
Open to the public:
Mon, Wed, Fri: 11am - 1pm
Tue, Thu: 11am - 1pm (Erasmus+)