Ioannis Lazaratos
| | |
| --- | --- |
| Field: | Philosophy: Ontology, Epistemology, Aesthetics |
| Rank: | Professor |
| Government Gazette: | 1095/01.10.2018, τ. Γ' |
| Telephone: | +30 2661087208 |
| Email: | lazaratos@ionio.gr |
| Office hours: | Tuesday 11.00-12.00 |
---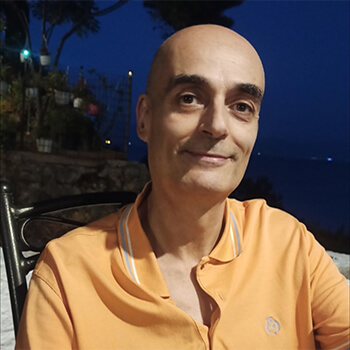 Yannis Lazaratos, Professor of Philosophy: Ontology, Epistemology, Aesthetics at DFLTI - Ionian University, studied Philosophy at the University of Lecce (Italy), and received an honours degree.
He also studied Philology at the University of Ioannina. He is a qualified teacher of Italian. He has twice received scholarship and research grants for postgraduate studies and research at Universities in Italy. He attended classes and lectures by Umberto Eco in Semiotics and Translation Theory (University of Bologna), in Aesthetics and Philosophy by Luciano Nanni (University of Bologna), and by Gianni Vattimo in Theoretical Philosophy (Soprabolzano).
Following a doctoral study period under the supervision of Cornelius Castoriadis (member of his PhD committee), he carried out his doctoral research at DFLTI on issues of philosophy, aesthetics and translation theory.
His publications include Art and Polysemy, Papazisis publishers, Athens, 2004, p. 504, Umberto Eco: Intersemiotic Tranlation (& Translation and Epistemology), Papazisis publishers, 2007, p. 226, Art, Philosophy, Autonomy: The Liberating Acceptance of Mortality, Papazisis publishers, 2018 (2011), p. 320, The Window of Castoriadis: Chaos, Abyss, Groundless, Papazisis publishers, 2018, p. 308.
Updated: 21-06-2022
---
Back
Staff
Secretariat
Tsirigoti Sq.
Galinos Building (1st floor)
Corfu, GR-49132
+30 26610 87202
dflti@ionio.gr
Open to the public:
Mon, Wed, Fri: 11am - 1pm
Tue, Thu: 11am - 1pm (Erasmus+)